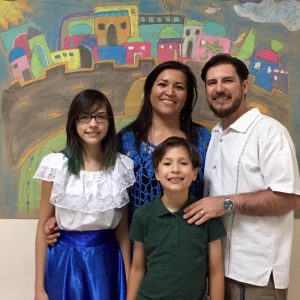 [Español aquí] My name is Pablo Andres Zuñiga Peregrina. I have been married since 1998 to Estela, an amazing woman who continuosly brings out the better me. We have two wonderful children named Kristin and Duard whom we homeschool.
On my mother's side, I'm the sixth generation in a family looking to serve God in different ways and settings. My great-great-great grandfather Benjamín Pascal was one of the first national presbyterian ministers in Mexico working with missionary Merrill N. Hutchinson in the late 1800's and ultimately gave his life teaching the Bible. My great grandfather Hazael T. Marroquín was the secretary of the Bible Society in our country during the mid 1900's and a ruling elder of Mexico's first national presbyterian church. My parents themselves served the poor and needy children living in the streets of Morelia in the 1990's giving them a home and teaching them the Word and a trade they could live by. Devoted people committed to God, they have set a very high standard for us to follow serving our Messiah.
Recently I found out my name literally means "little man who pilgrims the cultivated field on the slope", couldn't be more accurate. I have been serving YHVH/God in different ways and settings since I was 15 years old and then I completely committed my life to Him when I turned 20. My wife and I have ministered and taught his word through music, visual arts, and teaching since we met. Over the years we have actively participated and worked with many churches and ministries in Mexico and abroad counseling, leading worship, teaching, and also doing administrative work. We have moved more than 20 times and lived in 6 different cities constantly following the cloud and the fire from Elohim building and teaching local communities of disciples of Yeshua/Jesus. This has given us the joy of having many dear friends all around the world! Since 2017, we have been establishing and pastoring a strong community of believers and disciples of Yeshua at Durango, Mexico, named Heaven's Gateway-Sha'ar HaShamayim.
My work for Yeshua's body is similar to that of an architect. I lay down foundation, trace a course and assist building people's lives and families. I teach the principles contained in the Torah, Neviim and Ketuvim, sometimes called the old testament, through the interpretation, teaching and example of Yeshua and his disciples in what some call the new testament. We look at the writings of the new testament through the perspective and context of Hebrew men from the first century that knew and abided by the law, the prophets and writings.
Also, one of my God given tasks is to find and fix structural damages or avoid hazards in the spiritual building. I constantly see this in people's lives, marriages, families and communities. Though sometimes this is hard to bear and it isn't always welcomed, I put a lot of effort into loving, encouraging, and leading people to commit to God and to be willing to change for their own good according to His Word. Along with my wife who is a great motivator and exhorter we do this by presenting both, the possible outcome of staying in a negative or sinful condition as well as the positive outcome of trusting YHVH and aligning our lives to His Word. We leave the rest to His Ruah-Spirit. We understand it's every person's decision to make but we stay close to guide, counsel, and team with those willing to go through this process.
Giving a true testimony of love and obedience to Elohim with our lives is our commitment to YHVH.